Europe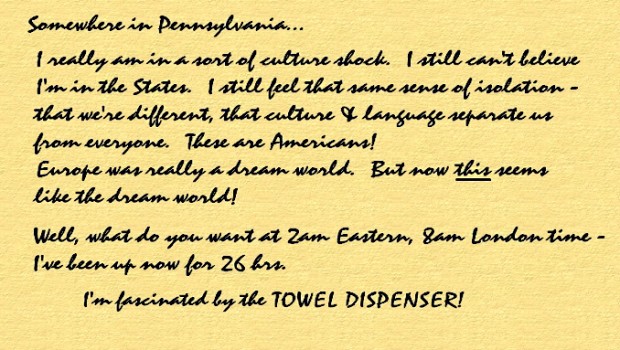 Published on August 15th, 2011
5
Surreal Reflections Upon Reentry
Turns out that dumping all my "stuff" unearths some interesting bits of nostalgia.  Given that I'm dismantling all my worldly possession here, today I faced the decidedly tedious task of pawing through my 2 drawer filing cabinet, stuffed with all manner of ancient history of my life.
One such bit that emerged is a yellowed note card from "Meegan Services, J.F. Kennedy International Airport" with a notation about a reservation for a room at the "President" hotel (at a rate of a mere $30!)  Given the date of the reservation, the card could only be from the day my two young daughters and I returned to the States from our many adventures in Europe.  I never used the hotel reservation, and instead booked the three of us on a Greyhound bus to Chicago the same day we arrived at JFK (so my folks could lay eyes on their precious granddaughters that I'd dragged around Europe for 8 months.)
On the back of the reservation I'd apparently scribbled myself a note.   From the tone of it, I must have written it whilst cramped in a bus seat whizzing through the night towards the Midwest.
It reads:
xxxxx
Now I've done a lot of travelin' since those days, and each time I've returned home I again feel that same giddiness with reliably hot showers, the bliss of being understood when I speak, and yes – the utter genius of a contraption that spits out paper towels!
I'm sure many of we wanderlusts can relate to the surreal feelings of reentry.
How 'bout you – have you ever gazed in awe at a towel dispenser in your home country after wandering amid far away places for a spell?