My Great Leap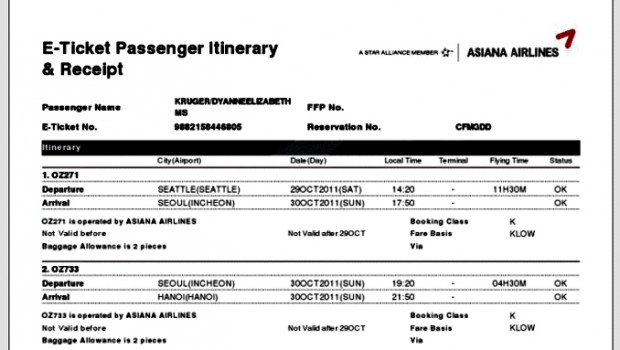 Published on August 3rd, 2011
1
Is There Anything Better Than Having an Air Ticket in Your Pocket?
Uh… I don't think so.  Leastwise for this TravelnLass, the crisp feel of a freshly-printed E-ticket (to ANYWHERE!) is the ultimate joy.It means… I'm headed to some new foreign land.
And even better? This time I've purchased but a ONE WAY ticket!
To a land I've been dreaming about for over a year.
This morning I clicked my way to the next chapter of my life.  It's now official:
On October 29th, I'll board a plane on a ONE WAY flight to Hanoi, Vietnam!
Yesssssss!  That's 17.5 hours of pure BLISS (including a 1.5 hr. layover in Seoul, Korea)
Well o.k. physically it won't exactly be Paradise (more like 16 hrs. of mind-numbing monotony)  Still… for this die-hard wanderlust, the end justifies the ughy means.  The destination trumps the acky journey of hour upon dreary hour, suspended 30,000 feet above the blue Pacific, exchanging recycled air exhaled by hundreds of likewise joyless, cramped, bored wretched souls.
Nonetheless, otherwise (did I happen to mention?) utter BLISS!
And why Hanoi?  I mean, given that I'm destined to initially take the CELTA course in SAIGON, why touch down in Vietnam's capital city – fully 1,000+ miles to the north, you may ask?
The truth is, I figured as long as I was embarking on what might well be a PERPETUAL journey exploring the globe.  With no expiration date/date I need to be back in the U.S. EVER again.  And furthermore – no particular date that I need wait to depart…
I thought I may as well do a little exploring en route to my fixed November 14th CELTA course start date in Saigon.
At first I thought of spending a week in some stray land along the way like… I toyed with the notion of a stop in Japan.  Then it was possibly… the Philippines, or Papua New Guinea or Borneo.  Ah but my passion just now remains firmly fixed on Vietnam, so…
In the end I opted for a more conservative compromise – a week in northern Vietnam (allegedly a wholly different world from what I'll find in Saigon and surrounds in the south), allowing another week or so to find an apartment and get settled before the intensity of my teaching course begins.
And specifically Hanoi in the north because I've long been enchanted by the ethnic hill tribes clustered amid the mountains and valleys 'round Sapa, in the far northwest corner near the Vietnam/China border.  There plus… I simply couldn't WAIT to experience the legendary splendor of Hu Long Bay (a World Heritage site, and universally regarded as one of the most beautiful corners of the globe.)
So the Plan is firming up quite nicely here.  With nearly 2 weeks to roam before my teaching course begins, the plan is to do a 3 day/2nt. tour of Hu Long Bay (presently I'm favoring THIS package), and then hop on an overnight train to Laocai/Sapa and independently hire a guide to do a 3 nt. homestay trek amid the Hill Tribe region.  Then it will be another overnight train back to Hanoi, and the final loooooong (30 hours!) overnight train down to Saigon (thank GOODNESS for that dear lad in Seat61!), arriving around November 8th.  That will give me 5-6 days to settle in and prep for my month-long CELTA course.
In any case, it's all beginning to (finally!) seem REAL now.  And already I'm itchin' to hop on that "silver plane" and begin what promises to be my most ambitious adventure yet.