Reviews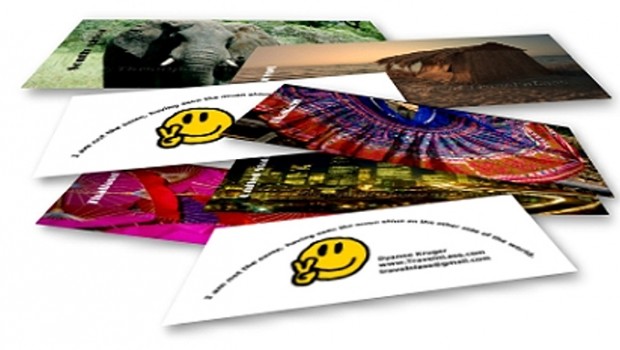 Published on May 2nd, 2011
2
"MOO" MiniCards – Perfect for the Trail
Given that the primary reason I travel is to connect with folks along the trail (both locals and fellow travelers), I'm always on the lookout for anything that will further that end.  I have several nifty apps on my iPod Touch (e.g. Google Translate, and the fun little "Paper Toss" game that's bridged the language-gap many times with young and old alike all over the world.)  But now I've stumbled upon a more tangible trinket that I can pass out to one and all as I meet people along the way.
MOO MiniCards – miniature "business cards" but much more fun and perfectly suited to the vagabond style of we travelers.
Just 2.75″ x 1.1″ on super-duper 16 pt. card stock (standard business cards are but 12 pt. thick.)  Better yet, the cards are coated with a smooth matte laminate that makes them even more adaptable to the rigors of the trail.
But the best part is, unlike the usual ho-hum business cards, for $19.99 (just .20 each) you can order 100 cards – each with a DIFFERENT image/design printed on one side of the cards, plus a single design (usually text with your contact details) on the other side.
That means I can have up to 100 of my travel photos printed on a batch of cards – with NO TWO ALIKE – kewl!
To try out the MOO MiniCards service, I selected 40 of my favorite travel images (necessarily sticking to landscape vs. portrait views to best complement the horizontal layout of the mini-cards), carefully cropping/resizing them in my graphic software, and adding a "Through the Eyes of TravelnLass" watermark to each one.*  The moo.com site provides a great deal of helpful details on how to get the best results (e.g. cropping images to precisely 874 x 378 pixels, and allowing for an area of printing "bleed" along the edge.)  They even provide templates so you can be sure any text, etc. on your cards won't be cut off at the edges.
For the back/info side of my cards I devised a design of a happy face (playfully fingering the "peace sign") plus one of my favorite travel quotes in an arc above the happy face that reads:
"I am not the same, having seen the moon shine on the other side of the world."
While the point of the travel cards is of course to be able to easily share my email address so as to keep in touch with folks I meet, the happy face/peace sign ensures that even those who don't happen to speak English can "read" it.
But it is the the assortment of pics from around the world that makes these bitty travel cards unique.  I can carry a handful (I also purchased a sweet little plastic card holder that holds up to 10 mini-cards) and let folks that I meet choose whichever card they like.  Indeed, I just received my first batch of bitty cards and already friends are oohing and ahing at the pretty pics, and love to pick their favorite.
| | |
| --- | --- |
| | NOTE: Absolutely NO COWS were harmed in the pecking of this post, and furthermore…Nope. I was not given any special perks to wax so happily about my nifty new MOO MiniCards. |
*Alternately you can just upload you original pics to moo.com and use their handy online photo cropper/enhancer, along with their vector-based text widget to create your MOO cards directly on line.