NYC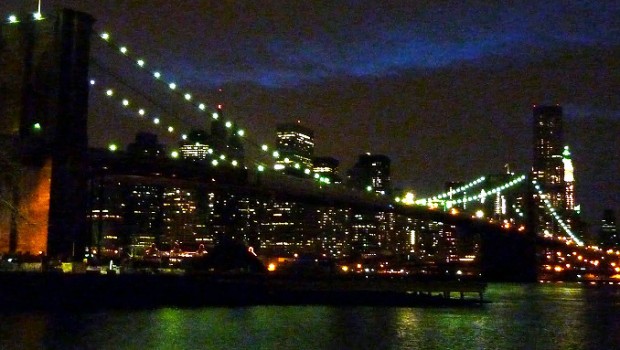 Published on March 21st, 2011
6
I (heart) NYC
It may not be the most exotic destination on earth (and certainly not the cheapest!), but there's surely no place on the Planet quite like Manhattan.  Indeed, scores of folks don't "heart" NYC for nothing.  And given that I'll soon to be departing the shores of my native land for… g-knows how long (forever?), I simply had to have one last fling amid the skyscrapers of perhaps the foremost American icon before I leave.
Besides, it was my birthday, so I decided to treat myself to a quick visit to the "Big Apple", and invited my good friend Chuck from D.C. to celebrate with me in NYC for the weekend.Hotels in Manhattan don't come cheap, but I snagged us a great deal online for The Empire Hotel ideally located across the street from the Lincoln Center near Central Park – half price at $150/nt.!  (Note: such opulence is rare for me, as I'd normally be quite happy couchsurfing.  But suffice my dear chum travels a tad more upscale, so I was thrilled to find such swank accommodations for less than $100 pp.)
Both Chuck and I scoured the web to whittle down what plays and other attractions we wanted to see.  "Jersey Boys" was our favorite, but alas the tickets were breathtakingly steep. Happily, my friend kindly offered to treat me to the show as a birthday present.  He also recommended we see "Phantom of the Opera" (he'd seen it before and loved the music), so I found us discounted seats (albeit in the nosebleed balcony) for just $50 each. With our main goals secure, we left the remainder of our itinerary open to whim.
The plan was that Chuck would take the train up from D.C. and meet me upon arrival at the Newark airport at 3pm on Saturday.  I had a 7am Continental flight from Seattle, and planned to drop off my car at an off-site car park (just $42 for 4 days parking).  All well and good, and I pride myself on always allowing plenty of time to avoid the jitters of possibly missing a flight.  That meant a 4am wakeup of course, but suffice…
Oh, I woke up on time all right, but I'll be darned if I didn't get lost in the pre-dawn darkness trying to find the bloody car park!  Long story short?  For the first time ever, I utterly MISSED MY FLIGHT!   At first I was told that the next Continental flight to Newark wasn't until 10:30 pm – arriving in NY the following morning (arghhh!)  But when I protested (I mean, there must be DOZENS of flights into Newark each day, no?), she scurried about and rebooked me on a United flight (thank goodness, Continental and United are merging!) that would arrive at 9pm.  Fine (not to mention, whew!), I phoned my chum and advised him to meet me instead at the hotel.
Needless to say a most stressful start on my birthday fling.  But the good news is that, but for the ominous beginning – the rest of the weekend went absolutely SPLENDIDLY!
The hotel was fabulous (they even upgraded us to a deluxe room, gratis), ever so conveniently located, and after a late check-in we wandered in search of… why a bite of NYC street-eats of course!  Suffice the lamb gyros were delish, and the banter with the street-corner chef great fun.
Sunday morning (my birthday) we headed out for breakfast of baked eggs and Mimosas, followed by a walk through Central Park (including a pause at the "Imagine" mosaic at "Strawberry Fields".)  After, we strolled to St. Patrick's Cathedral, and along the way we happened upon the legendary (Seinfeld) "Soup Nazi" kiosk.  I had the lobster bisque and it was truly to die for!
Then it was off to "Jersey Boys" and let me tell ya – it is perhaps THE best musical I've ever seen. The songs were fantastic of course: "Sherry" (Sherrrr-errr-reeeee, Sherry ba-beeee), along with a gazillion other favorites like "Big Girls Don't Cry", "Walk Like a Man", "December 1963" (Oh, What a Night), "Workin' My Way Back To You", "My Boyfriend's Back", "Let's Hang On" (to what we've got), "Who Loves You" (Pretty Momma), "Dawn" (Go Away), "My Eyes Adored You", and my personal favorite – "Can't Take My Eyes Off You".  Clearly seriously "oldies" tunes today, but trust that they brought back fond memories of my youth.
Taking the subway hither and yon Manhattan proved both a challenge and great fun.  After "Jersey Boys" we hopped on it to ride under the East River to Brooklyn (ahem, Seattle please take note…) and then walked across the mile-long Brooklyn Bridge back into Manhattan (taking pics of all the twinkly lights along the way.)  And for my birthday dinner, we ambled into China Town for some delectable Dim Sum.
The next day we set out with just 3 missions in mind: The Staten Island Ferry to get a goodly glimpse of "The Lady"; The Guggenheim Museum, and our 2nd Broadway musical, The Phantom of the Opera. Fortunately, the weather was fair – a bit windy but clear and partly sunny. The Staten Island Ferry is free and affords double views (to and fro) of both the Statue of Liberty and Ellis Island. And the Guggenheim – a pure delight. The remarkable building was designed by Frank Lloyd Wright, and the gallery houses a most wondrous collection of Impressionist paintings. After soaking up a slew of original Rousseau's, Cézanne's, Monet's, Renoir's, Seurat's, Gauguin's, Degas', Mondrian's, Picasso's, van Gogh's, and my new personal favorite – Kindinsky's, we went on a quest for perhaps my greatest NYC love: a nowhere-else-on-the-Planet slice of thin crust NYC pizza. Here too, kismet was with us 'cuz we somehow managed to stumble into "Mariella's" – apparently dubbed by Ms. O herself as "The Best Pizza in America"!
And for a finale, we capped our brief visit to NYC enjoying the glorious music, costumes, and stage sets of "Phantom", and a final drink at a Mexican pub near our hotel (I had an "El Betabel" – yep, Spanish for "The Beet" – a delicious concoction of Pacifico beer, lime, Cholula hot sauce, and beet juice with salted rim – yummm!)
Needless to say, a most wonderful way to celebrate my birthday. And especially, to explore the veritable "heart" of America with a good friend, before… heading out to that g-forsaken rice paddy on the other side of the globe come October.